Our service areas include Youth Engagement, Mental Health Services, Community & Housing Services, Employment Services, and Youth Justice Services throughout 21 locations across Ottawa.
We help 3,000 youth every month get from where they are to where they want to be. You can help get them there, too.
Visit our blog to read the latest news from YSB, including updates on events and programs.
Accessing our services:
We are offering services remotely and scheduled in-person services.
You can reach our Head Office at 613-729-1000, our Mental Health Hub at 613-562-3004, Employment Services at 613-236-8244, Youth Justice at 613-738-2104, and Community Services at 613-241-7788. Please leave a voicemail if we don't pick up right away.
Contact Us
Youth Services Bureau of Ottawa Head Office
613-729-1000
info@ysb.ca
2675 Queensview Drive
Ottawa, Ontario K2B 8K2
24/7 Crisis Line 613-260-2360
Toll-free for Eastern Ontario
1-877-377-7775
Media
613-729-0577 ext. 1206
communications@ysb.ca
About Us
YSB helps thousands of young people address what threatens their physical, sexual, mental, and social well-being. We offer youth programming in five main service areas across multiple locations throughout Ottawa.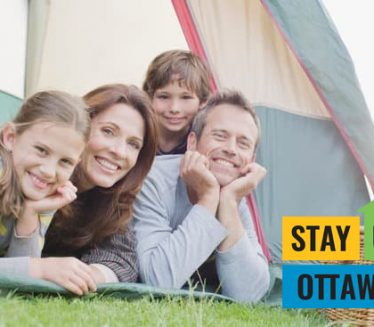 It's here! Let's Stay Up Ottawa!
It's here! Join us and be part of Stay Up Ottawa! YSB's newest signature event (previously known as YSB's SleepOUT for Youth), brings the city together to help prevent and end youth homelessness right here in our community. Let's Stay Up Ottawa! It's a fun and easy challenge for you, that makes a lasting impact […]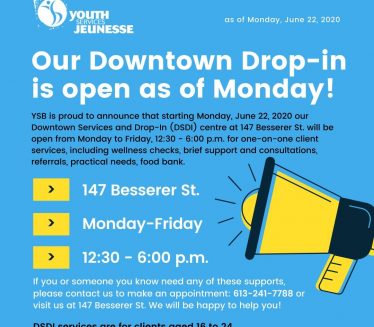 Our Downtown Drop-in is open as of Monday!
YSB is proud to announce that starting Monday, June 22, 2020 our Downtown Services and Drop-In (DSDI) centre at 147 Besserer St. will be open from Monday to Friday, 12:30 – 6:00 p.m. for one-on-one client services, including wellness checks, brief support and consultations, referrals, practical needs, food bank. If you or someone you know […]