Youth Services Bureau breaks ground for new Trades Training Centre, offering skills training for at-risk youth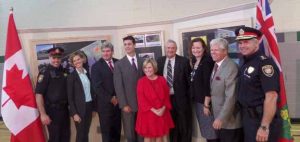 OTTAWA, SEPTEMBER 24, 2014: Today Minister Tracy MacCharles, Minister of Children and Youth Services, announced that a new Trades Training Centre is being built at the Youth Services Bureau's (YSB) William E. Hay Centre. The new centre will train youth currently involved in the youth justice system, as well those who are at risk of becoming further involved. Youth will be provided training in the much-needed skills of carpentry, small engine repair, welding, metal work, electrical, drywall, and framing.
"We're extremely proud to be a part of this project," said Scott Lawrence of CGI and Board member of YSB's Charitable Foundation. "This approach is win-win: we are helping young offenders learn skills and build confidence, while at the same time addressing the chronic labour shortage in the skilled trades."
The Trades Training Centre will provide state-of-the-art training and skills development in the trades for youth in custody as well as at-risk youth in the Ottawa area. The centre will benefit the commercial and residential construction and retail industries, which are plagued by a well-documented labour shortage.
"Young people in custody need a meaningful future when their sentence is done," said Gord Boyd, Director of Youth Justice with YSB. "They want and need training and skills, and the lifetime of opportunity that follows. Once they leave here, we don't want them coming back." This centre will greatly expand a skills training program already running at the William E. Hay Centre.
The Trades Training Centre will have the capacity to provide up to 300 youth a year with education, mentorship, and training. In addition to youth in custody at the William E. Hay, the centre will also be open to other at-risk youth, including those on probation and in diversion programs in the Ottawa area.
"Those of us in law enforcement have seen exactly what learning a skill or trade means to a young person short on opportunity," noted Staff Sgt. Mark Patterson of the Ottawa Police Service. "Youth at risk can turn to gangs and guns, or they can pick up a hard hat and get to work. I know which option they'd prefer."
The William E. Hay Centre, a 40-bed residential facility serving male youth in secure detention and custody, provides educational options and life skills to give youth the knowledge and skills they will need throughout their lives.
-30-
For more information or to arrange an interview, contact:
Suzanne Fraser, Youth Services Bureau
sfraser@ysb.on.ca or 613-277-7103